The IRIDIUM system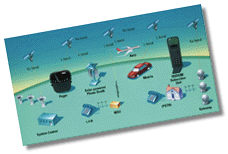 The IRIDIUM system is changing the way the world communicates as the first truly global, personal, satellite-based telecommunications system providing communications via hand-held wireless telephones and pagers.

It will revolutionize communications for business professionals, travellers, residents of rural or undeveloped areas, disaster relief teams, and others who need the features and convenience of a wireless hand-held telephone with a single worldwide number.

Subscribers will use hand-held IRIDIUM telephones transmitting through digital facilities to communicate with any other telephone in the world.

Explore the new world of IRIDIUM and find how to change Your way to communicate!




HOW THE SYSTEM WORKS



When an IRIDIUM telephone is activated, the nearest satellite - in conjunction with the IRIDIUM network - automatically determines account validity and the location of the user. The subscriber selects among cellular or satellite transmission alternatives, depending on compatibility and system availability, to dispatch a call.

If the subscriber's local cellular system is unavailable, the telephone communicates directly with a satellite overhead. The call then is transferred from satellite to satellite through the network to its destination, either to another IRIDIUM telephone or to an IRIDIUM ground station. IRIDIUM system gateways interconnect the satellite network with land-based fixed or wireless infrastructures worldwide.

Quality communications is ensured by the IRIDIUM system's space segment, which includes a constellation of 66 satellites located 780 kilometres (420 nautical miles) above the Earth's surface. Compared to geostationary communications satellites located 35,900 kilometres (22,300 nautical miles) above the Earth, the low earth orbit of IRIDIUM satellites allows more tightly focused beams to be projected on the ground, providing transmissions that are clear and strong.

The system is structured like an atom with the Earth as a nucleus and the satellites as electrons.

The receiving antenna is small enough to fit on a hand-held telephone. The small, lightweight IRIDIUM satellites are electronically interconnected to provide continuous worldwide coverage. Communications are relayed via satellite and through terrestrial gateways, where billing information and user location data will be stored.

Intersatellite and ground control links take place in the Ka-band frequencies. Telephone and messaging communications take place in the L-band frequencies.

Services within various countries are provided through telecommunications authorities and local service providers.




IRIDIUM PHONE



IRIDIUM hand-held telephones are capable of delivering high-quality voice, facsimile, and data services anywhere on Earth.

IRIDIUM single-mode handsets are designed to provide satellite communications around the world through the IRIDIUM constellation. The satellite-based IRIDIUM system tracks the location of the telephone, and provides global transmission, even if the subscriber's location is unknown.


IRIDIUM handsets are similar in design, weight, battery lifetime and dimensions to popular hand-held phones. In dual-mode they're also GSM cellular phones, and can operate in every place where GSM networks are available. Their digital technology allows for maximum clarity and signal quality.

A SIM (subscriber identity module) card provides basic IRIDIUM system access, personalized features, and enhanced security. The SIM card prevents the phone from being used without a valid card and proper PIN (personal identification number).

Thanks to a standard RS232 or USB interface port built into each IRIDIUM handset, data and facsimile transmissions are also possible.



IRIDIUM PAGER



The IRIDIUM pager offers the first true "global roaming" capability in a small, belt-worn, personal message receiver.

The IRIDIUM pager provides messaging capability to users in areas with incompatible terrestrial paging systems or no terrestrial paging coverage.

In addition to storing both alphanumeric and numeric messages of up to 80 characters, the IRIDIUM pager features a large alphanumeric display, international character sets for worldwide applicability, sophisticated user features and approximately one-month battery life with an AA alkaline battery.




MOBILE TELEPHONE UNIT



Mobile telephone units provide in-vehicle access to IRIDIUM services. This units will be useful for automobile travellers who need to travel from country to country without losing connection to the world.

Where compatible terrestrial cellular service exists the IRIDIUM system can use the local network. Otherwise it uses the satellite network giving you access to global communications in every place of the world.




BEAM RST UNIT



The new RST-100, provides remote locations with telecommunications access via the Iridium satellite system ensuring truly global coverage. Suitable for both maritime and land applications, the RST also offers several interfaces for both voice and data.
Basically, the RST-100 emulates the functionality of the Public Telephone service. It provides sockets for the user to connect a conventional handset, answering machine or PC, a socket for the connection of a plug-pack type mains power supply and a connection to an external antenna.
In addition there are two serial interfaces for PC connections and bi-directional SMS (subject to network support).




AERONAUTICAL



Aeronautical IRIDIUM services provide personal communication services to travellers on commercial and business aircraft.

Voice, facsimile, paging and data services are available through compact and lightweight IRIDIUM units. These units are designed to complement the existing aeronautical communications system and to offer passengers convenient global access to telecommunications.

IRIDIUM aeronautical radio products are expected to have substantial advantages - including size, weight and cost - over existing satellite communications equipment for aircraft.

In aircraft, where every gram must be carefully considered and space is at a premium, size and weight are serious issues. Current aeronautical terminals require high power levels and a large steerable antenna to support voice and high-speed data communications. In additions, they may weigh almost as much as a passenger, more than 70 kg., and take up as much space.

IRIDIUM aeronautical system, by contrast, employs a small, non-steerable, low-gain antenna. In addition, the total weight of the equipment - terminal, antenna and wiring - needed to outfit an airplane with IRIDIUM aeronautical system would be about a quarter of what is required for existing systems.




SOLAR-POWERED PHONE BOOTH



Solar-powered phone booths are designed to provide public access to IRIDIUM services in remote areas that are underserved by existing telecommunications infrastructures.

The portable, redeployable and free-standing booth is able to operate on standard or solar power, reducing costs for the development of communication services.





SATELLITES



The IRIDIUM system is based on a network of 66 satellites. The satellite constellation is distributed on 6 near polar planes and each plane carries 11 operational satellites, as well as one spare satellite.

Each satellite weighs approximately 689 kilograms (1,500 pounds) and orbits at an altitude of 780 kilometres (420 nautical miles) above the surface of the Earth travelling around the planet once every 100 minutes.

Unlike geostationary communications satellites which are located 36,000 kilometres above the Earth, the IRIDIUM satellites' low Earth orbit makes it possible to communicate directly with a hand-held telephone, in the meantime avoiding the typical delay of geostationary satellite transmissions.

The satellite is linked to callers by a main mission antenna that offers 16 decibels of link margin, a signal that is strong enough to deliver high quality communications to a hand-held telephone.




In contrast with traditional wireless systems, coverage is achieved by satellites that project a grid of cells over the surface of the Earth. Each satellite covers an area 4,000 kilometres wide, providing links to all IRIDIUM subscribers roaming in such an area.

Developed by Motorola's Satellite Communications Division (SATCOM) in Chandler, Arizona, U.S.A., IRIDIUM satellites required impressive standards of manufacturing. The satellite constellation is controlled by a sophisticated ground control network, located in the U.S.A. and in Italy.







INTERSATELLITE CROSSLINKS



True global connectivity is provided because each satellite is connected by radio transmission to four others through the use of crosslink antennas. By routing a call through the satellite network, the IRIDIUM system is not dependent on availability of extensive terrestrial telecommunications facilities to deliver global telecommunications.

These intersatellite links are essential for providing truly global communication coverage. As the only proposed mobile satellite service using intersatellite links, the IRIDIUM system allows users to make and receive calls from anywhere on Earth, including polar and ocean regions.

Intersatellite crosslinks reduce the number of Earth stations required and allow for lower operating costs compared to other systems. The transmissions take place in the Ka frequency band between 23.18 and 23.38 GHz.




COMMUNICATION FREQUENCIES



The IRIDIUM system utilizes a combination of Frequency Division Multiple Access and Time Division Multiple Access (FDMA/TDMA) signal multiplexing to make the most efficient use of limited spectrum.

The L-Band serves as the link between the satellite and IRIDIUM subscriber equipment. The IRIDIUM subscriber equipments have been authorized by the European Administrations to operate in the band 1621.35 - 1626.5 MHz for both uplink and downlink.

The Ka-Band (19.4-19.6 GHz for downlinks; 29.1-29.3 GHz for uplinks) serves as the link between the satellite and the gateways and Earth terminals.




GATEWAYS

Gateways make communications possible between IRIDIUM telephones and any other telephone in the world.

Interconnection to the existing wired and wireless networks, domestic and international, public and private, is performed through ground-based IRIDIUM gateways which are located in key regions of the world.

These stations consist of equipment to communicate with the satellite constellation and with the international switching centers of the domestic fixed network.

Their functions include registering of IRIDIUM subscribers and providing access to existing ground-based telephone networks, so achieving the connectivity of the telecommunications networks worldwide.


Gateways are owned, operated and financed by one or more Iridium investors or their affiliates.

Eleven gateways are scheduled to be in operation at the commencement of commercial service.

IRIDIUM Italia and IRIDIUM Communication Germany manage the European gateway which is installed at Telespazio's Space Centre in the province of L'Aquila, approximately 130 km from Rome.

The Fucino station - the largest civilian telecommunications centre in the world - was chosen for its geographic position, optimum for serving the European continent and outlying regions. The Fucino station is also to be home to a GBS (Gateway Business System) centre, an information centre for the processing and administration of the service's data (contacts, consumption, bills).

At the heart of the IRIDIUM gateway is a Siemens EWSD-based D900 switch. Based on the GSM (Global System for Mobile Communications) cellular standard, the D900 switch ensures a high quality integration of IRIDIUM services with land-based telecommunication systems.




| | |
| --- | --- |
| | |



SYSTEM CONTROL



The System Control serves as the central management component for the IRIDIUM satellite constellation.

Two System Control Facilities are planned to be installed, one in the United States and one in Italy, in Rome.

Located just outside Washington, D.C., the primary function of the Master Control Facility is to control and monitor the IRIDIUM satellite network. Day-to-day management of a satellite constellation involves a variety of tasks, including analyzing telemetry data, to ensure that every subsystem aboard the spacecraft is working properly.

In addition, three Telemetry, Tracking, and Control Centres (TTACs) located in Hawaii and Canada, are linked directly with the Master Control Facility. The TTAC facilities communicate with the satellite network to, among many other functions, regulate the positioning of satellites during launch placement and subsequent orbit, monitor and control the position of the satellites during the launch phase and orbit phase.

Motorola's Engineering Control Center in Chandler, Arizona, serves as launch control center, responsible for monitoring and controlling the initial ascent and early orbit phase activities of the IRIDIUM constellation of 66 satellites plus spares.

The Engineering Control Center will hand over responsibility for control and monitoring of the satellite network to the Master Control Facility after the satellites are placed in orbit.

IRIDIUM SATELLITE SYSTEM
CONSTELLATION
SATELLITES
66
ORBITAL PLANES
6
INCLINATION OF ORBITAL PLANES
86.4 degrees
ORBIT HEIGHT
780 km. (421.5 naut. miles)
ORBITAL PERIOD
100'28''
SATELLITE
STABILIZATION
3 axis
TRANSPONDER
Processing
SATELLITE WEIGHT
689 kg.
SPOT BEAMS
3x16 per satellite for high signal quality and spectrum efficiency
LINK MARGIN
16 db (average)
INTERSATELLITE LINKS
4 at 25Mb/s
LIFETIME
5-8 years
FREQUENCY BANDS
USER TERMINAL
Uplinks: 1616-1626.5 Mhz, L-Band
Downlinks: 1616-1626.5 MHZ, L-Band
INTERSATELLITE LINKS
23.18-23.38 GHz, Ka-Band
GATEWAY LINKS
Uplinks: 29.1-29.3 GHz, Ka-Band
Downlinks: 19.4-19.6 GHz, Ka-Band
CONNECTIVITY
CIRCUITS PER SAT.
3,840
AVERAGE SATELLITE CONNECTION TIME
9 minutes
MIN. ELEVATION ANGLE
8 degrees
SWITCHING EQUIPMENT
Siemens GSM-D900
On-board Satellite Processing
Satellite and Ground Stations Control Handoffs
Planetary Full Frequency Reuse
SIGNALING
GATEWAY TO INTERNATIONAL SWITCHING CENTER
PCM transmission and SS7-ISUP or MFCR2
IRIDIUM TELEPHONE
Frequency Division/Time Division (FDMA/TDMA);
Quadrature Phase Shift Keying (DE-QPSK)
TRANSMISSION RATES
DIGITAL VOICE, FAX, DATA
2.4 kilobit per second
LAUNCH
McDONNELL DOUGLAS (DELTA II)
Five IRIDIUM satellites per launch
KHRUNICHEV (PROTON)
Seven IRIDIUM satellites per launch
CHINA GREAT WALL (LONG MARCH 2C)
Two IRIDIUM satellites per launch


IRIDIUM SERVICE DEFINITION


VOICE
Digital call quality
FDMA/TDMA efficiency
16 dB link margin
2.4 kbps vocoder
PAGING
Numeric and alphanumeric
4 lines and up to 80 character display
DTMF origination
26.5 dB link margin
DATA
2.4 kbs two-way data transmission
FACSIMILE
PC Class 2.0 or Group III facsimile compatible
ADVANCED CALLING FEATURES
Enhanced call completion
Voice mailbox
Page forward
Call barring